Thank you for scheduling your tour with us. Please use the form below to complete your order 72hours prior to your tour.
Note: Once your order has been place we are unable to change it. Order should be place 72hr prior to your tour date.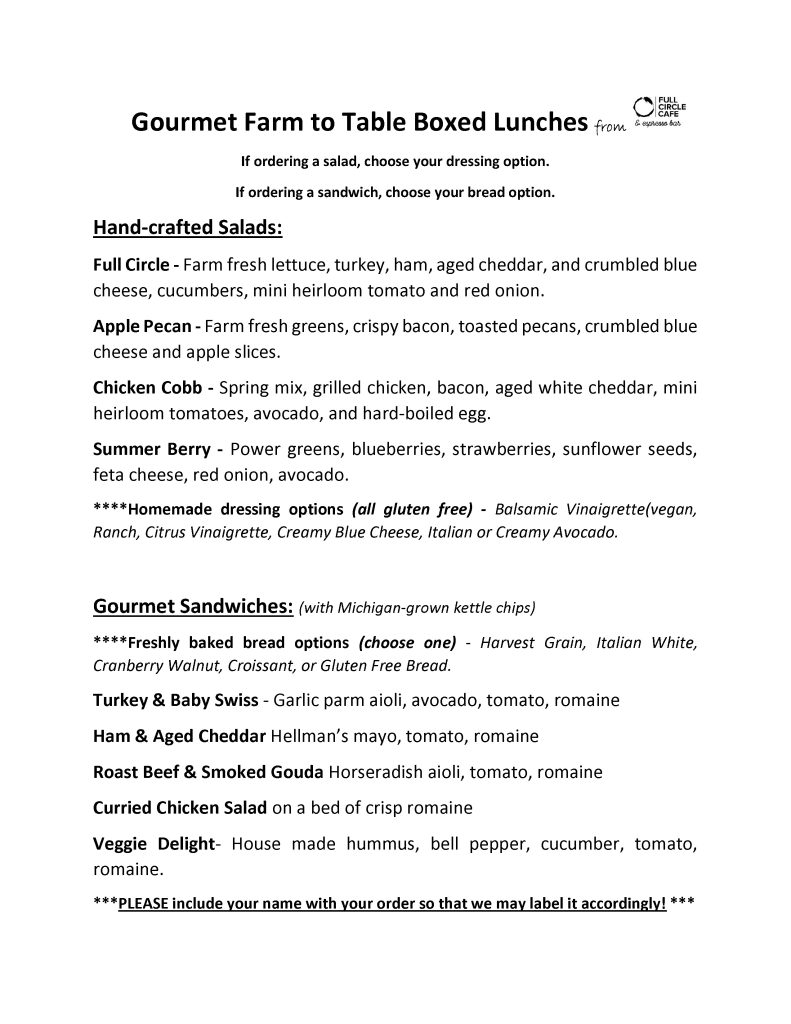 Lunch Options
Gourmet boxed lunches are the perfect, portable, customizable choice for lunch on the go.
They include your choice of a full size sandwich and Michigan grown kettle chips or a hand-crafted salad.
Napkins (and silverware, when appropriate) are included. We also label each box with its contents, and can even label with names in order to ease the process of distribution.
Sandwich options are:
Choose your freshly baked bread option (choose one) – Harvest Grain, Italian White, Cranberry Walnut, Croissant, or Gluten Free Bread
Turkey & Baby Swiss
(housemade garlic parm aioli, avocado, tomato, romaine)
Ham & Aged Cheddar
(Hellman's mayo, tomato, romaine)
Roast Beef & Smoked
Gouda (Horseradish aioli, tomato, romaine)
Curried Chicken Salad
(on a bed of Crisp romaine)
Veggie Delight
(House made hummus, bell peppers, cucumber, tomato, romaine)
Salad options:
Choose your Homemade dressing option (all gluten free) – Balsamic Vinaigrette(vegan, Ranch, Citrus Vinaigrette, Creamy Blue Cheese, Italian or Creamy Avocado
Full Circle Salad
(Farm fresh lettuce topped with turkey, ham, aged cheddar, crumbled blue cheese, mini heirloom tomatoes and red onion.)
Apple Pecan Salad
(Farm fresh greens topped with crispy bacon, toasted pecans, crumbled blue cheese and apple slices.)
Chicken Cobb Salad w/Blue Cheese Dressing (Spring mix topped with grilled chicken, bacon, aged white cheddar, mini heirloom tomatoes, avocado, and hard-boiled egg)
Summer Berry Salad (Power greens, blueberries, strawberries, sunflower seeds, feta cheese, red onion, avocado)