---
Book the St Joseph Vino Coach Tour
$180.00 per person Thursday, Friday, & Sunday
$195.00 per person Saturday
We tour three wineries, pay all tasting fees, and pay for your lunch!
Vino Coach Tour Details
What's included?
We tour three wineries, pay all tasting fees, and pay for your lunch!
Pickup Locations
10:50 AM EST
Comfort Suites, Stevensville
11:10 AM EST
Holiday Inn Express, St. Joseph
11:20 AM EST
Inn at the Boulevard, St. Joseph
11:30 AM EST
Inn at Harbor Shores, St. Joseph
Note: The itinerary may be changed at our discretion. If you have a party of 6 or more, we may be able to schedule a tour for your group on a day not listed as available on the calendar. Please call us at 1-269-978-8777 to discuss options.
LUNCH MENU: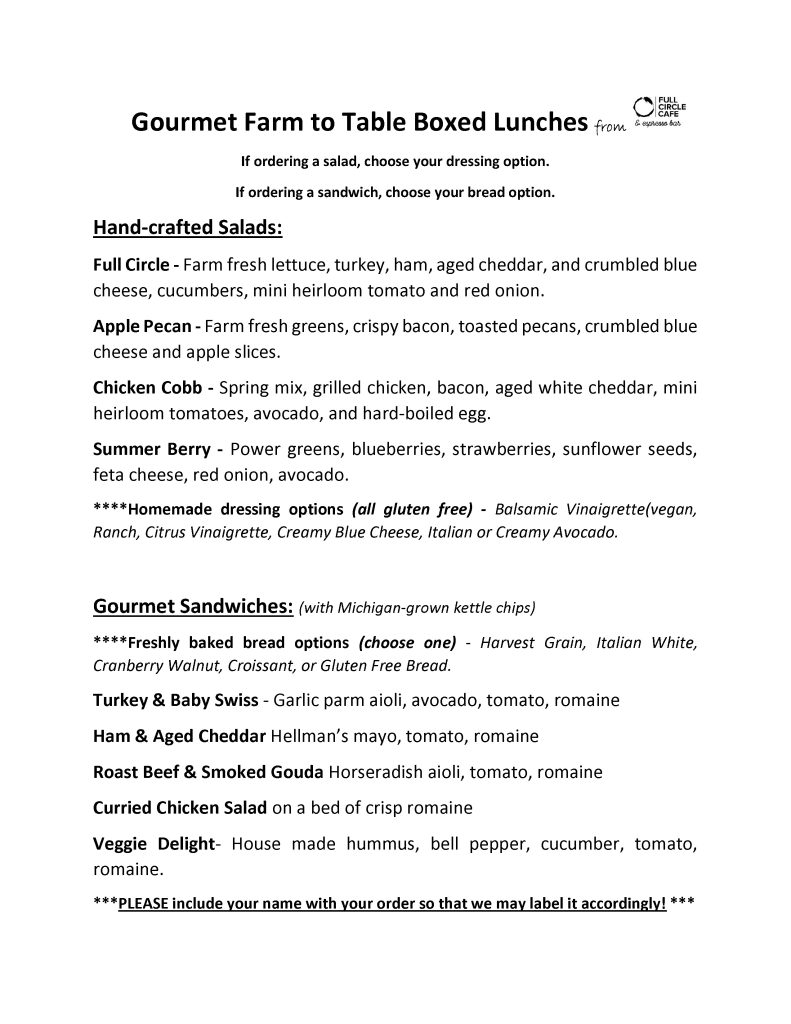 Booking Directions
Select

a Tour Date.

Select a TOUR SCHEDULE.
Choose PICKUP TIME/LOCATION.
Select number of people attending.
Please review the menu and have each person you are reserving a ticket for choose a meal and include their name. Make sure you choose your salad dressings or bread choices. Email your choices to Deb at deb@fruitfulvinetours.com.
You may also download the menu here: Boxed Lunch Menu_Full Circle_June2023 
Click "ADD TO CART".
Select VIEW CART to proceed to checkout.
NOTE: After clicking SUBMIT, please wait for the payment confirmation to appear. You must enter your payment information to reserve your seat(s). We accept Visa, MasterCard, and Discover.

BOOK NOW
---
Commonly Asked Questions
Click question to view answer.
What is your cancellation policy?
We hope you never need to cancel! If you do, a refund will be given up until 30 days from your tour. No refunds will be given if a tour is canceled within 30 days of your scheduled tour date. The tour is only canceled in dangerous weather, in which case you will receive a full refund. Rain does not stop us! Read more: Payment and Cancellation Policy
How long of a day is it?
Tours start around 11:30 a.m. (exact pickup time will be listed in your confirmation email) and we usually return sometime between 5:00 p.m. and 6:30 p.m. depending on the size of the group and how busy the wineries are.
What's included?
Pick up locations throughout New Buffalo and St. Joseph.
A stress-free day—no maps, GPS, or arguments.
Transportation to and from your hotel/pick up location to wine country on a comfortable coach bus.
An awesome tour guide who will teach you all about viticulture and winemaking.
We tour three wineries, pay all tasting fees, and pay for your lunch!
What should we expect?
Every tour will visit wineries and have a lunch stop. You will join others who are looking to have a good time as well, so be prepared to socialize! We normally limit tours to a maximum of 14 people. You will have time for wine tasting, gift shopping, and to sit down and relax a bit. You will be outside most of the day, so dress accordingly! Do not expect a "booze cruise."